fri11mayalldayfriRêves de l'île d'or à Sumatra(All Day: friday) Event Organized By: Padmasana Foundation / Yayasan Lokaloka Pays:Indonésie
Event Details

Dreams from the Golden Island / 金洲之梦 / Mimpi dari Pulau Emas /

Le 11 mai, à l'occasion de la publication du livre "Rêves de l'île d'Or » écrit en quatre langues (indonésien, français, chinois, anglais) et illustré par une communauté de jeunes artistes et activistes du village de Muara Jambi, une procession au flambeau est organisée à travers les rues du village, de la mosquée jusqu'aux berges du fleuve Batanghari, le plus grand fleuve de Sumatra, en passant par les anciens temples bouddhistes du site. La procession sera conduite par le chef du village, les anciens du droit coutumier récitant des selokos (poèmes de sagesse), les percussionnistes de Rebana Hadrah (tambours soufis), les jeunes danseuses du village, les combattants de silat (art martial indonésien), accompagnés par les musiciens de musique accoustique melayu…

11 Mei, pada acara peluncuran buku « Mimpi-Mimpi dari Pulau Emas » yang ditulis dalam empat bahasa (Indonesia, Perancis, Cina, Inggris) dan diilustrasikan oleh komunitas seniman muda dan aktivis desa Muara Jambi, sebuah pawai akan diadakan,  dimulai dari masjid sampai ke tepian Sungai Batanghari, melalui candi Budha purba di situs Muara Jambi. Pawai itu akan dipimpin oleh Kepala Desa, para tetua adat yang melaraskan seloko (syair kebijaksanaan), para penabuh Rebana Hadrah, penari-penari perempuan muda, laskar silat melayu, diiringi oleh musisi musik akustik melayu…

May 11th, together with the publishing of the book « Dreams from the Island of Gold » written in four languages (Indonesian, French, Chinese, English) and illustrated by a community of young artists and activists from the village of Muara Jambi , a procession is organized, starting from the mosque until the banks of the Batanghari River, the largest river in Sumatra, passing through the ancient Buddhist temples of the site. The procession will be led by the village chief, the customary law elders reciting selokos (poems of wisdom), Rebana Hadrah drummers (Sufi drummers), young women village dancers, silat fighters (Indonesian martial art), accompanied by Melayu acoustic music…
---
L'île d'Or, en sanskrit Suvarnadvipa – aujourd'hui Sumatra, en Indonésie – se trouvait au carrefour de la route maritime du bouddhisme, qui doubla au 7ème siècle la route continentale de la soie. En son coeur naquit un immense centre de savoirs qui attira les plus grands sages de Chine et d'Inde, de I-Tsing à Atisha, et dont les enseignements rayonnèrent jusqu'au Tibet. Autour du 13ème siècle, cette université sombra dans l'oubli. Son site, Muara Jambi, est habité de nos jours par un village de musulmans clairvoyants. Ils sont les rêveurs de cette histoire, les passeurs de la mémoire sur le fleuve du temps.
Pulau Emas, Suwarnadwipa dalam bahasa Sanskerta – kini Sumatera, di Indonesia – berada di persimpangan Jalur Laut Buddha, yang mendaulatnya dari Jalur Sutera lintas benua pada abad ke-7. Di jantungnya lahir sebuah pusat pengetahuan maha luas, yang menarik orang-orang bijak dari Cina dan India, seperti I-Tsing dan Atisha. Ajaran-ajarannya menyebar hingga ke Tibet. Sekitar abad ke-13, universitas itu terlupakan. Kini, kawasan itu, Muara Jambi, dihuni oleh masyarakat adat Islam. Mereka adalah juru mimpi bagi riwayatnya, para pendayung yang membawa daya ingatan di seberang sungai waktu.
金洲,梵文称苏伐纳迪巴——今天的印度尼西亚苏门答腊岛——地处佛教海路(在公元7世纪时取代丝绸之路之陆路带)的十字路口,在这核心地段,当时兴起了一个广大的智慧中心,吸引着中国与印度的大德前来。从义净到阿底峡,他们的教义由此辐射及至西藏。在13世纪左右,这所"大学"湮没于尘世。而今它的遗址穆阿拉占卑,居住着充满睿智的穆斯林。他们是本书中故事的作梦者,是超越记忆之外的时间之河的引渡人。
The Golden Island, Suvarnadvipa in Sanskrit – now Sumatra, in Indonesia – was at the crossroads of the Buddhist Sea Route, which in the 7th century took over from the continental Silk Route. In its heart arose a vast center of knowledge which attracted the greatest sages of China and India, from I-Tsing to Atisha, and whose teachings radiated until Tibet. Around the 13th century, this university sank into oblivion. Nowdays, its site, Muara Jambi, is inhabited by a village of clairvoyant Muslims. They are the dreamers of this story, the ferrymen on the river of time to what lies beyond memory.
« Nous imaginons faire revivre cette université verte en miniature. Fonder une maison des savoirs d'hier et de demain, de Sumatra et d'outre-mer, des villes et des villages, pour éduquer le cœur, combattre l'amnésie de l'histoire, transmettre la culture de paix, se mettre au service du bien-être de la terre et de notre grande famille humaine. » (Les villageois de Muara Jambi)

« Kami bercita-cita menghidupkan kembali universitas hijau ini dalam skala kecilnya. Membangun rumah bagi pengetahuan kota dan desa masa lalu dan masa depan, dari Sumatera dan mancanegara, guna mendidik hati rohani, memerangi lupa ingatan sejarah, menularkan budaya damai, melayani kesejahteraan bumi dan keluarga besar manusia ». (Masyarakat Muara Jambi)

« 我们想象以小规模来复兴这所绿色大学。建立起来自苏门答腊及海外的昨天和明天的知识,教导灵心,对抗历史的失忆症,传达和平文化,为地球和伟大的人类家庭的美好服务. »

"We fantasize about reviving that green university in miniature. Establishing a home for the urban and village knowledge of yesterday and tomorrow, from Sumatra and overseas, to educate the heart, to combat historical amnesia, to communicate a culture of peace, to serve the welfare of the earth and our great human family." (The villagers of Muara Jambi)
Organizer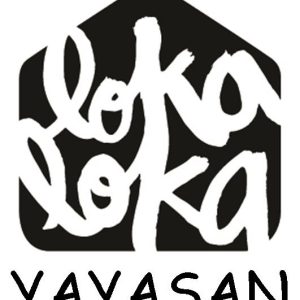 Padmasana Foundation / Yayasan Lokaloka